Hi all…
Zombies. Love them or hate them they seem to be everywhere these days. There are zombies in Jane Austen and Mark Twain books. There are books describing the aftermath of zombie infections and outbreaks across the globe (and how to deal with one if it's happening now). And there are zombie flash mobs popping up in cities all over. I think they are here to stay. There are even zombie processes on computers!
But not all zombies are created equal. Sure Milla Jovovich, Jesse Eisenberg, and Simon Pegg have been fighting a variety of zombies over the last few years, but beyond a bit of excitement and comedy on screen, all the zombies are loosely based on the George Romero standard. Viral, shambling mounds of what used to be people now seeking the taste of live flesh.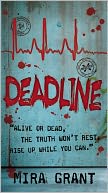 And then there are zombies used in more recent fiction from authors Jonathan Maberry and Mira Grant. Sure the zombies are still there, but the story isn't about them. It's about us. It's about folks using zombies to further their own agendas, whether it's fear or political will they're after doesn't matter. The shambling dead or infected living are simply tools to be used to achieve an end.
To me, that's scarier than any monster zombie Milla will ever fight on screen (though she still looks good doing it). Evil intent trumps blind rage nine times out of ten.
When I finished reading FEED by Mira Grant last year I was blown away. Zombies, blogging, and politics? What a powerful combination. Within the first few pages she captured my attention with a detailed, logical setting and characters I could identify with and root for. And at the end, I shed a tear or two. Emotional punch AND zombies AND amazing writing? Epic win!
As soon as I finished, I was excited to read the next book in the series — DEADLINE. Could Grant continue the story and keep her readers hooked? After finishing DEADLINE, this reader says "Hell yes!"
If you haven't read FEED yet, there are spoilers ahead, so I'd encourage you to read it before you learn too much about the sequel.
Sure, Shaun Mason survived the devastation that occurred about a year ago. His sister Georgia didn't. Neither did several of his friends and coworkers. But every day is a struggle. And though his sister is gone physically, she has moved into his head to help him figure things out when he needs her.
Crazy? Sure. But having dealt with the death of a good friend, I can identify with moments where you swear you can hear that voice as clear as if the person was sitting right next to you. Shaun talks out loud to his sister and his coworkers and friends think he's lost it, but know (or hope) he'll work through it eventually.
When Dr. Kelly Connolly shows up at Shaun's home and the headquarters for their blogging empire for "After the End Times" in Oakland, he knows it's not a good sign. The more Kelly talks about what happened at the CDC, the more that feeling grows. And the more people try to kill him and his friends as they ferret out the truth, he knows he has to get to the bottom of it. Ultimately the truth about who was behind his sister's death is the only thing that matters.
Grant takes the political intrigue of FEED and ratchets it up to 11 to a stunning conclusion in DEADLINE. And we can only hope that the next book of the trilogy – BLACKOUT – serves to answer some of the questions asked in the first two books. The only bad part is we have to wait a while for those answers when BLACKOUT is released in May 2012. I'm not sure I can wait another year!!
For more information about author Mira Grant, check out her website at MiraGrant.com. Or check out my review of FEED here.
This article first appeared at BlogCritics.org here.
–Fitz