Hey all…
So the WGA strike is affecting more than movies and regular episodic television… Sitcoms, which are sometimes filmed in front of a live audience, have been affected as well. Sitcoms use writers much more heavily late in the process, tweaking jokes and dialog up to the time that the show is filmed.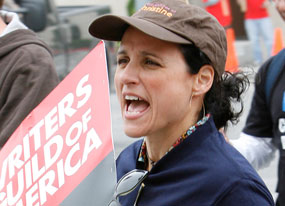 Here's an E Online story about this:
Some of the shows we like are affected by this:
Rules of Engagement
Two and a Half Men
Big Bang Theory
'Til Death
All of these shows are great and will be missed. I certainly understand the WGA's position on the strike. And I hope that big business doesn't squash things like a bug. But quality of television and movie scripts will be affected if that should be the case.
What do you think about the strike? Is it a good idea? What shows of yours are affected? Let me know!
Also, don't forget to use HeyNielsen.com to shout about your favorite shows to let the studios know how much you miss your favorites!
–Fitz