Hey there!
Laughter is the best medicine. It may not cure cancer, but it certainly can't hurt. And it definitely cures the blues. So when I saw that Drew Carey was coming back with a new improvisational comedy show, I was more than a little geeked up.
We used to watch Whose Line is it Anyway? when it was on ABC all the time. And when it went off the air, even the reruns on ABC Family were sometimes enticing enough to watch. There's just something magical about the fact that these funny guys can make simple improv games into amazingly hilarious results with no preparation!
Now on the Game Show Network (GSN) we have Drew Carey's Improv-A-Ganza and the hilarity has continued and seemingly become better! Comedian and game show host Drew Carey gathered some of his old friends and a few new ones at the MGM Grand in Las Vegas, Nevada to record a number of episodes airing during the week. Each 30 minute episode may seem short, but we've found ourselves having to pause and rewind several times (thanks to our DVR addiction) because we've been doubled over with laughter.
Some of the actors and comedians who have helped out Drew include:
Greg Proops
Jeff Davis
Wayne Brady
Heather Anne Campbell
Kathy Kinney
Sean Masterson
Bob Derkach (does all the music)
and even Charlie Sheen appeared briefly in an episode
Each episode works pretty much the same way, focusing on three or four improv games. Each game is hosted by a different player. Some of these are familiar, such as Sound Effects, Greatest Hits, and Sentences. Others are new like Freeze Tag, Question This (improv Jeapardy, which is hilarious), and Two Headed Expert. Each game may involve two or more of the players and typically goes for five minutes or so.
Here are a couple of clips (probably NSFW) for you to enjoy:
If you like improv comedy, you really can't miss Drew Carey's Improv-A-Ganza on GSN!
–Fitz
p.s. If you miss the old Whose Line show, be sure to check out the episodes collected on DVD!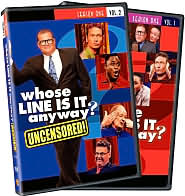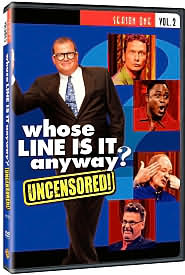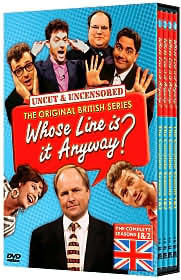 Related articles