Hi there…
The beauty of Merlin as a series is that it has an amazing chance to reinvent some of the great stories involving Merlin, Arthur, Guinevere, Lancelot, and the rest of the figures of Camelot. One of those plotlines I've been waiting to see is about the Crystal Cave.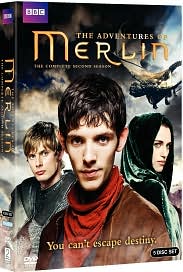 Merlin as a wizard has always captured my attention – back to the early 1980s when I started playing games like Dungeons & Dragons and really started tearing through piles of fantasy and science fiction novels at the library. While in that particular spell of reading, I came across Mary Stewart's The Crystal Cave, which was the first in a series she wrote about Merlin and Camelot. Though I don't recall much about the series, the concept of Merlin trapped in such a cave stuck with me.
Based on the classical stories of Merlin, as Camelot begins to fall, he becomes enraptured by Nimue, who doesn't really want the attention. On their way back to Camelot, they stop for the night in a cave where Nimue lays a trap from which he cannot escape. And he eventually dies there.
I'm looking forward to seeing what happens in the Valley of Fallen Kings with Arthur & Merlin… What secrets does the valley hold and what's in the cave?
In the next all-new episode of Merlin, Arthur leads Merlin through the Valley of the Fallen Kings in order to find a hide-away. Arthur claims they will never be followed in after Merlin prods about whether or not the valley is cursed. Arthur's response doesn't sit well with Merlin and they are quickly trying to lead their pursuers off their trail once again. Watch the clip to find out if Arthur and Merlin can dodge a battle and tune in Friday at 10/9c on Syfy.
–Fitz
Related articles