Hi all!
A few years ago, we tuned in regularly to Whose Line is it Anyway? to see Drew Carey, Ryan Stiles, Colin Mochrie, Wayne Brady, Brad Sherwood, Chip Esten, Greg Proops, and others entertain us on TV through their improvisational comedy skills. With no notice they would be asked to act out scenes with strange rules – such as one person silently performing a task while another does sound effects, or pulling someone out of the audience and singing an original song in a particular style on the fly… The comedians were able to stretch their improv muscles and audiences often got into the act to participate as well.
We missed the show (though you can find it on DVD now) after it was cancelled in 2004. There have been attempts to revive it that haven't done well (like Drew Carey's Green Screen Show), but none have taken off.
Well, I'm happy to see that the Game Show Network (GSN) and Drew Carey are dusting off the idea and starting a new show that will air on GSN starting March 28, 2011! Yay!
Some of the cast members will include Heather Anne-Campbell, Jeff Davis-Davis, Chip Esten, Kathy Kinney (Mimi Bobeck-Carey on The Drew Carey Show), Jonathan Mangum-Mangum, Colin Mochrie, Sean Masterson, Greg Proops, Brad Sherwood, and Ryan Stiles. I'm guessing a few others may pop up from time to time as well.
The show will be based on a series of live improv performances taped in front of live audiences at the MGM Grand Hotel and Casino in Las Vegas on January 14-16, January 20-22, and February 3-5 at 7:30pm and 9:30pm. Additional performances will be taped at 9pm on Thursday, January 13th, and Sunday, February 6th. If you want tickets, there's still time to try and get to a taping by purchasing them online at MGMGrand.com and Ticketmaster.com!
It will be interesting to see how this show fares as a daily primetime show for GSN, but I know we'll be recording each half-hour episode for a while!
Here's a clip on the new website for the show:
Be sure to check out Drew Carey's Improv-a-ganza when it premieres on March 28, 2011 on GSN!
–Fitz
p.s. Find the Whose Line is it Anyway? DVDs below!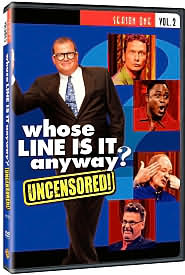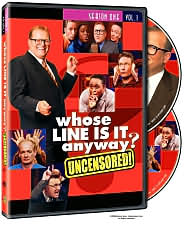 Related articles