Hi again!
When I was a kid, Tom and Jerry cartoons were already in syndication and played regularly on Saturday mornings. That was back when there were only a handful of channels, not hundreds of channels like we have now. And back then I wasn't much of a discriminating cartoon watcher. Whether it was Bugs Bunny, Tom and Jerry, Woody Woodpecker, Captain Caveman, Scooby-Doo, The Super Friends, or many others, I was typically glued to our old black and white TV with my bowl of Fruit Loops every Saturday morning.
Now as a parent, there are many more choices in the digital wasteland of television. A few new cartoons still get my attention now and then, such as 2011's Young Justice and the continued Clone Wars adventures, but I can't say that I really like shows like Spongebob Squarepants or Phineas and Ferb as an adult. As a result, I've found myself looking at older cartoons on DVD as a solution when we're looking to watch something as a family.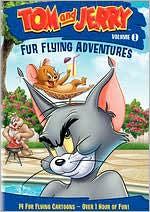 Tom and Jerry Volume 1: Fur Flying Adventures collects fourteen different Tom and Jerry classics on one DVD for about an hour of cartoons. Most of these episodes were from the original Hanna-Barbera era from 1940-1958, but a few are from the Chuck Jones era (1963-1967) after he left Warner Bros. Cartoons in 1963.
Episodes on the DVD include:
Barbecue Brawl (1956)
Happy Go Ducky (1958)
Hic-cup Pup (1954)
Little Quacker (1950)
Rock 'n Rodent (1967) (Chuck Jones)
Neapolitan Mouse (1954)
Pet Peeve (1954)
Pup on a Picnic (1955)
O-Solar Meow (1967) (Chuck Jones)
Robin Hoodwinked (1958)
Guided Mouse-ille (1967)
Timid Tabby (1957)
The Vanishing Duck (1958)
That's my Mommy (1955)
It was fun watching these with my daughters. We especially enjoyed the shorts with "Ducky" – the baby duck that somehow gets into all kinds of trouble with Tom, who of course wants to eat him. I still remembered "Little Quacker," "The Vanishing Duck," and "That's My Mommy" from my own childhood. And it's definitely fun to revisit those days every now and again.
One that I didn't remember seeing was "Robin Hoodwinked," which included Tuffy, Jerry's younger sidekick destined to get into trouble and somehow survive it all. It was fun seeing Jerry and Tuffy (in his cute diaper) rush into Nottingham Castle to save the captured Robin Hood and help him escape.
Also included on the DVD are a couple of trailers for more recent Warner Brothers productions, including Scooby-Doo! Mystery Incorporated (the latest Scooby-Doo animated series to hit the air) and Tom & Jerry Meet Sherlock Holmes, which was released just a few months ago. We enjoyed the new series and the new film, which brought some of our favorite characters back into the limelight.
If you're looking for a great way to keep your kids occupied for an hour, I'd definitely recommend picking up Tom and Jerry Volume 1: Fur Flying Adventures on DVD. If you're looking for a larger, more organized collection of Tom and Jerry shorts, there are other options available to you including the Tom and Jerry: Spotlight Collections and Tom and Jerry: The Chuck Jones Collection.
This article first appeared at BlogCritics.org here.
–Fitz
p.s. Pick up this DVD and other Tom and Jerry classics at Barnes & Noble: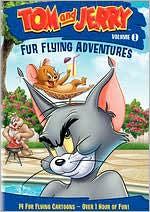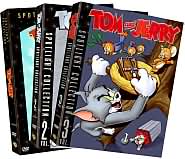 Related articles