Hello!
The myths and legends surrounding King Arthur have always fascinated me. Tales of honor, friendship, love, betrayal, swords and magic are woven into a tapestry filled with shiny knights, wizards who age backwards, and a sense of adventure. From Le Morte d'Arthur (Sir Thomas Mallory) and The Once and Future King (T.H. White) to The Sword in the Stone (Disney), Monty Python and the Holy Grail and even Camelot (the musical from Alan Jay Lerner & Federick Loewe), the stories have been told and retold through the ages.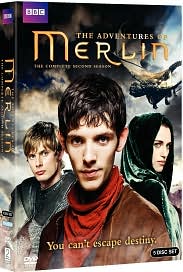 So back in 2009 when Merlin was announced and started to air on NBC (after airing on the BBC), I was planted in front of my television and it didn't take long for the rest of my family to join me. We were all drawn in by the antics of A young Merlin (Colin Morgan) working as a manservant for Prince Arthur (Bradley James) in a Camelot ruled by Arthur's strict father King Uther Pendragon (Anthony Head, Giles from TV's Buffy the Vampire Slayer). In another interesting twist, Guinevere (Angel Coulby) works as a maid to Morgana (Katie McGrath), the King's ward. As we're dealing with a Smallville-style revisiting of the Arthur myths, Merlin has a couple of mentors along the way – the wise old court physician Gaius (Richard Wilson) and the Great Dragon (voiced by John Hurt, Hellboy).
We tuned in regularly to see what kinds of trouble these characters would get into and how the writers would reinvent a younger Camelot. I was particularly interested in how we'd see characters from the older stories like Lancelot, Mordred, Morgause and Nimue show up as they inevitably would. And honestly I was quite surprised. The production crew did a great job of breathing new life into these stories.
When the first season ended, we were obviously hoping that the show would be renewed. And though NBC didn't air it directly, season 2 aired on the Syfy Channel last year. Due to insane schedules last spring, we only watched the first few episodes and never got back to see how it ended up. As a result, we were very happy to see Merlin: The Complete Second Season appear on DVD at the beginning of 2011!
Picking right up where the first season left off, the second season starts out with Merlin almost losing his job as Arthur's manservant to a thief and ends with Merlin saving the day and giving Arthur all the credit, which is a recurring theme on the show. Another recurring theme is the concept of destiny and Merlin's fate being linked to Arthur's. It's something brought up by many shows of this style – from Smallville to Hercules: The Legendary Journeys. Is a person's fate decided or can the path change?
It ultimately comes down to the character's decisions – their choices between what's right and wrong – that shape their destinies. But like life, not every decision is easy and all have consequences that may ripple far into the future.
What I really loved about season 2 is that these characters are starting to come into their own. Sure, Arthur's a Prince and supposed to do what his daddy the King says, but we start to see him rebelling a bit against policies he doesn't believe in. He goes off against orders to rescue Gwen in one episode and on a quest in another episode to find the last remaining Dragonlord because it's what's right for Camelot even if it goes against the King's wishes.
The other relationships really mature and change as well. Where there was a definite class boundary between Merlin and Arthur in the first season, we start to see them become more like best friends or brothers by the end. And the love triangle between Lancelot (Santiago Cabrera), Arthur, and Gwen starts to form. Arthur is recognizing the feelings he has for Gwen, but struggles with them because a relationship between a noble and a servant could never be. That really starts to come into question when he sees the budding feelings between Lancelot and Gwen. And finally we see the Great Dragon really push Merlin to release him as he agreed to. But when Merlin gets a glimpse of what the future could be like when the dragon is freed, does he really want to?
As with the first season, there are serious moments intermixed with some comedic moments. The difference in the second season however is the distance between the light and the dark. As Morgana begins her slide to the dark side, there are many tough choices for Merlin to make – but that makes the lighthearted banter between Merlin and Arthur that much more important to keep things from being bogged down in darkness too often.
All thirteen episodes of the second season are included on the first four DVDs of this five DVD set. The last DVD is a collection of great extras. Without question, the BBC has done an amazing job gathering a set of "Behind the Scenes" features for the season. Every episode has a thirteen minute look at the work that goes into filming, producing, and acting each show, which gives you something more concrete to watch than a longer feature that covers the entire season at once. In addition, there's an introduction to the new season from the cast and crew, audio commentaries, a collection of photos, and a Making of Merlin documentary that covers the entire season. If you have a PC, you also have access to a set of Wallpapers you can use as background images.
If you were a fan of Merlin as it aired on the BBC, NBC, or Syfy networks, Merlin: The Complete Second Season is definitely a DVD set worthy of your collection. It's been fun catching up on all the action in Camelot as Season 3 gets in full swing on Syfy!
This article first appeared at BlogCritics.org here.
–Fitz
p.s. Pick up both seasons of Merlin on DVD below!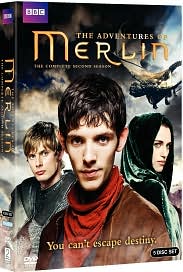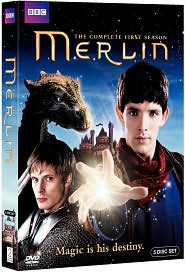 Related articles