Hey all…
Evidently I was too focused on being an adult in the mid-1990s because I missed a number of fun kid's shows. I'd never heard of Jim Henson's Animal Show before, but evidently it aired Seasons 1 and 2 on Fox Kids from 1994-1996 and had a third season on Animal Planet in 1997. I suppose I shouldn't be too shocked, considering that my eldest daughter wasn't born until 2001, so I really didn't have a reason to watch fuzzy Muppets talk about animals!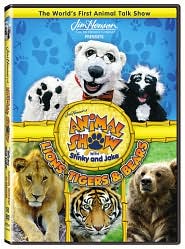 The Animal Show, hosted by Stinky the skunk and Jake the polar bear, focused on one or two animals per episode in a talk-show format. Stinky and Jake would interview their Muppet-ized guests and then show video clips of the actual animals in the wild. The hosts were assisted by co-hosts Armstrong the chicken hawk and Ollie the tapir (later replaced by Bunnie Bear, a distant cousin to Jake), who had their own segments of the show – "That's Amazing," "Animal Awards," and "Habitat Time." And then Tizzy the bee for the episode's quiz and Yves St. La Roache the cockroach who hosted a cooking-show segment.
Lions, Tigers, and Bears includes five different episodes of the series – "Zebra & Lion," "Tiger & Tiger Beetle," "Raccoon & Polar Bear," "Grizzly Bear & Hedgehog," and "Chimpanzee & Hyena." All but "Chimpanzee & Hyena" were from the first season of the show.
Watching with my family, we were entertained by every episode. Each episode was structured in roughly the same way, providing a consistent pattern for learning by the kids watching. And sometimes we even learned something! The silly songs, fun characters, and important lessons about animals, their habitats, and the environment is timeless.
As parents, my wife and I were most entertained by Armstrong and Yves St. La Roache. Armstrong's dry wit and reluctance to try new things really resonated with me, as I tend to be the same way. And La Roache reminded us fondly of the Swedish Chef from The Muppet Show. It seems it's tough to be a cockroach and get taken seriously as a chef. But somehow La Roache manages to pull it off with humor. We were both wondering if they ran out of budget for cute and cuddly animals for the "Chimpanzee & Hyena" episode because both Muppets were so ugly. But overall each episode achieved a good balance between humor and education without going overboard on either.
When it was airing, the TV series received two Emmy nominations for Outstanding Children's Series/Children's Programming and received a "Parent's Choice National Television Award," as well as receiving an endorsement from the National Education Association (NEA). Though the video clips are a bit outdated as far as quality goes, the show footage with the Muppets is crisp and clear. And the content is just as relevant now for kids as it was 15 years ago.
If you're looking for a fun and educational way to spend a couple of hours with your kids, look for Jim Henson's Animal Show with Stinky and Jake: Lions, Tigers, and Bears on DVD at your favorite retailer online or off. Hopefully they will be releasing all three seasons of Jim Henson's Animal Show with Stinky and Jake on DVD soon!
For more information about this and other Jim Henson productions, check out their website at Henson.com.
This article originally appeared here at BlogCritics.org.
–Fitz
p.s. Pick up this and other great DVDs from Barnes & Noble below!
Related articles by Zemanta