Hi again!
Before I begin this review, I must confess something. I'm a 41 year old married father of two and I still like cartoons just as much as when I was a kid. There, I said it! By now it's probably no secret that I have a soft spot in my heart for well-written and animated cartoons, but I can't stop. Hopefully I won't have to stop until I stop breathing!
So why this confession? Because I need to explain my fascination and admiration for Shaun the Sheep. HIT Entertainment has just released a new collection of shorts called Shaun the Sheep: Animal Antics, and I have to say it's one of my favorite collections since Shaun the Sheep: One Giant Leap for Lambkind. The DVD includes seven great stories this time covering everything from golf and garage sales to a persistent fox doing his best to find some dinner.
What? You don't know about Shaun? Well, let's remedy that!
Shaun the Sheep is a stop-motion animated series from Aardman Animations, the studio behind such great features as Wallace and Gromit: Curse of the Were Rabbit, Chicken Run, and Flushed Away. Shaun himself is a smart sheep with more than a touch of creativity that gets him in and out of trouble. He first appeared in the Wallace & Gromit short feature A Close Shave when he saved his flock from an evil mechanical dog that wanted to turn the flock into dog food!
The Shaun the Sheep series started airing in the UK on the BBC back in 2007, but started gaining quite a following in the US when the shorts started airing on the Disney Channel. Since then, HIT Entertainment has been releasing the shorts in DVD collections. Each short is painstakingly created frame by frame by the animators working with actual sets and plasticine/clay figures that can be posed in myriad positions. If every second of an episode is composed of 24 frames, you're looking at more than 1,400 frames for one minute of animation – and each short is around five minutes long. That's a long process and I have an amazing amount of respect for the artists involved.
The beautiful part of these shorts is the absolute lack of spoken words. Each character grunts, baa's, barks, or grumbles its way through any "lines" that must be said – so it's almost more like a silent film than a modern cartoon. The stories are told through facial expressions and gestures, which makes every frame that much more critical to making sure the intent is understood. As a result, you have a show that's enjoyable for people of any age and language isn't a barrier. It's as though Charlie Chaplin has been channeled to a whole new audience.
Shaun is obviously the star of the show, but he has a lot of help on the farm. The Farmer has no idea at all what goes on when he's not looking, but his ignorance is one of the things that gets made fun of quite a bit. The Farmer's dog, Bitzer, really runs the farm along with Shaun and tries to keep the flock out of trouble. Shirley is the biggest sheep of the flock and is really an eating machine – and if she didn't eat it but it was lost on the farm, it might be found in her thick wool coat. Timmy's Mother tries to keep her baby, Timmy, out of trouble and succeeds sometimes. (Timmy has his own new spin-off show called Timmy Time for preschoolers.) The Pigs live next door to the flock and are constantly trying to get the sheep in trouble. And there are many other characters that crop up now and again to keep Shaun, Bitzer, and the flock on their toes.
Among the seven shorts on Shaun the Sheep: Animal Antics, there were three that really made me giggle as I watched with my two daughters ages 6 and 10.
"Foxy Laddie" not only introduces some new sheep to Shaun's flock, but a Fox who tries to infiltrate the flock in an attempt to eat Timmy. Seeing the Fox in disguise really made us all giggle. And he almost fools the flock until Shaun and Bitzer catch on.
"Frantic Romantic" shows that the Farmer really needs a lot of help to impress his date. He can't cook at all and Shaun has to step in to cook a "gourmet" meal out of scraps while Bitzer scrambles acting like a waiter at a fancy restaurant.
And "Everything Must Go" proves what I already knew – that garage sales get crazy. When the Farmer decides to sell some of his produce in a little stand along the road outside the farm, he gets a lot of interest and soon hands it off to Bitzer to run. When Bitzer gets tired, he hands it off to Shaun and Shaun decides he likes selling things… He and the flock manage to sell everything but the kitchen sink while the Farmer and Bitzer aren't looking!
In addition to the seven shorts included, there's also a feature on "Building a Pig" that features one of the animators, Harriet Thomas, working with a group of kids to show them how to create one of the naughty pigs out of clay. There's also a short video from Timmy Time.
If you haven't seen Shaun the Sheep yet and want something to share with your kids, I recommend picking up any of the DVDs that have come out so far. Shaun the Sheep: Animal Antics continues the hilarity and would be a great addition to any family DVD collection. To learn more about Shaun the Sheep, be sure to check out the series website and watch for other great productions from Aardman Animation!
This article first appeared at BlogCritics.org here.
–Fitz
Related articles
Hi all!
It's no secret I'm a fan of well-done animated programs. Whether they were done in the 1940s or in just the last few years, it really doesn't matter so long as they are fun and tell a good story. The style is less important, though I tend to enjoy good old two-dimensional hand-drawn animation and classic stop-motion more than computer-generated "pixel fests." With a good story and passionate people working to bring that story to life, a great team can do almost anything with animation in any style.
That said, I am also a fan of old-school humor. Slapstick from artists like Charlie Chaplin and Buster Keaton, Laurel & Hardy, Abbott & Costello, and even the Three Stooges can be used not only to entertain audiences with wild physical antics, but can also offer social commentary in a non-confrontational way. The greats didn't even need dialogue, just exaggerated facial and physical expressions to show action and emotion.
When you mix great animation, storytelling, and slapstick humor together, you can end up with something very special. Shaun the Sheep is one of those projects from Aardman Animation, the same folks who brought Wallace & Gromit to life. Using stop-motion, claymation techniques these brilliant folks bring an entire farmyard to life with a flock of sheep, three naughty pigs, a barnyard dog, and a clueless farmer. Without any speech at all beyond the lyrics of the theme song, each five minute episode tells a complete story with humor suitable for both kids and adults.
The latest DVD, Shaun the Sheep: The Big Chase, pulls together seven episodes of fun mayhem on Shaun's farm. The episodes include everything from a runaway sheep on an ATV and a monster from the swamp to a runaway boat and rare migrating zebra ducks!
One of my favorites was the title episode for the DVD – "The Big Chase," in which Timmy (the baby sheep of the flock) went for a joy ride on the Farmer's new toy – a four-wheel ATV. Bitzer, the Farmer's faithful dog, was supposed to be guarding it but Timmy was sneaky. And once he got the motor started, it was off to the races! Bitzer and Shaun tried to catch the ATV after stealing a motorcycle from a pizza delivery guy. The pigs tore off in a convertible to cause more chaos. And we got to see town nearby the farm for the first time I can remember. After they finally stopped the ATV, the Farmer, dressed in his finest riding leathers and helmet, gave it a spin and didn't do nearly as well as the baby sheep!
Another great episode was "Bitzer from the Black Lagoon." Whenever Shaun and Bitzer start playing soccer, you know nothing good is going to happen. This time when the ball gets lost in a nearby forest, Bitzer goes after it. Unfortunately, he finds the ball floating atop a small pond and when he tries to retrieve it, he ends up covered in swampy mud and greenery. When he gets back to the farm, he doesn't look like Bitzer at all and scares the sheep into a panic. When the flock finally realize it's really Bitzer under the muck and corner him to get him cleaned up, they get a bit of a shock instead!
And "Zebra Ducks of the Serengeti" introduces two troublesome ducks into the mix. These two birds decide to build a nest on the Farmer's house, blocking the chimney. When Bitzer and Shaun finally get them off the roof, both birds are covered in soot and end up looking like a pair of rare Zebra ducks. The Farmer sees this as a money-making opportunity and decides to set up a small drive-through exhibit so he can show off these rare ducks. Unfortunately, like many of the Farmer's plans, the ducks spoil everything by getting cleaned up just in time…
In addition to the seven episodes, you get a couple of bonuses. The "Mini Making of Shaun" video shows a bit about how each episode goes together and the amount of work involved. I'm always impressed seeing these talented folks getting the thousands of shots together for each five minute episode. The DVD also includes a music video ("Timmy's Tune #1") from the new show for preschoolers called Timmy Time.
If you like animated shows you can share with your family, it's tough to beat Shaun the Sheep. We love all the characters and Aardman continues to add more to the series each season. Be sure to pick up Shaun the Sheep: The Big Chase at your favorite retailer or rental store if you get a chance!
This review originally appeared at BlogCritics.org here.
–Fitz
p.s. Definitely check out this and other great Shaun the Sheep titles below!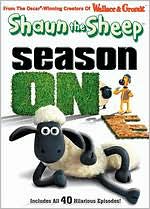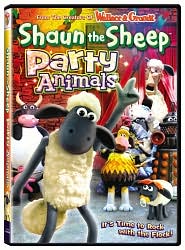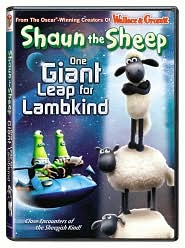 Related articles