Hi all…
This has to be a first… I've found TWO Christmas albums this year I actually can stand! Is the Grinch melting or are people simply starting to go beyond traditional arrangements of boring old Christmas tunes?
Over the last ten years I've only found a handful of holiday-themed albums that have really clicked for me. Traditional albums filled with Christmas classics tend to stay to the tried-and-true arrangements of the same songs we've heard for years now. So when I find an artist that breaks the mold, either with humor, new arrangements, or new songs, I tend to take more notice.
Sonos, an a cappella group that came onto the scene in 2009, has released an album of Christmas music called December Songs and it's striking in its gorgeous vocal arrangements and choice of songs. They've been busy, performing in live sessions on NPR's Weekend Edition, Studio 360, KCRW, BBC Americana, Sirius/XM, and many others – as well as performing at the Sundance Music Festival. With all of that, it's amazing they had a chance to get into the studio to record a holiday album. And all ten songs lend a grace and harmony to the season that adds a bit of magic back to Christmas for me.
"Ave Maria" starts off the album beautifully, adding motion to a song usually done much more slowly. Always a song rich with emotional overtones, Sonos has managed to add new life making it more of a bright and cheerful celebration than the usual dark and steady pace the song is normally performed set to.
They follow that up with "All on a Christmas Morning," a song from the 1940s that I'd never heard before telling the story of the babe in the manger in Bethlehem. I love the opening which sounds a bit like a variation of "God Rest Ye Merry Gentlemen" but merges seamlessly with the lyrics "O, they a vision fair would view / Would find the beautiful and true, / And faith and hope and love renew / All on a Christmas morning."
But funny enough to me it's the traditional songs "O Holy Night" and "Greensleeves" that stuck with me after listening a few times. This is the first rendition of "O Holy Night" that I can remember not making me cringe. There's a power to the arrangements as they transition from a duet with backups to the fuller chorus and the rich vocal accompaniment. And their version of "Greensleeves" without words provides some interesting textures to enhance the basic melodies that made this a unique arrangement.
Whether you're a fan of a cappella music, Christmas music, or are simply looking for something to brighten your holidays, please check out December Music from Sonos. The album is available now from Amazon and CD Baby online. Be sure to check out their website at Sonosings.com.
For a review of Sonos last album – Sonosings – be sure to check out my review here.
This review appeared first at BlogCritics.org here.
–Fitz
p.s. Check out these albums from Barnes & Noble and Amazon!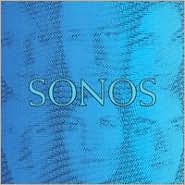 Related articles