Hi all…
Most of the kids I grew up with expected the Easter Bunny to arrive at their house before Easter morning, leaving behind baskets of candy and multi-colored eggs and hidden surprises around the house or yard to try and find. And inevitably he would appear, like clockwork, on Easter morning. We've been trying to keep that tradition alive with our kids now, so I was pleased to see The First Easter Rabbit, Deluxe Edition released on DVD for the holiday this year.
Originally airing in 1976, The First Easter Rabbit tells the story of how a lovable little stuffed bunny became the first Easter Bunny ever and how he was helped that first year by Santa Claus! This animated special was done by Rankin/Bass – founded originally by Arthur Rankin, Jr and Jules Bass – who were famous for making stop-motion holiday specials like Rudolph the Red-Nosed Reindeer, Frosty the Snowman, Santa Claus is Comin' To Town and many more between 1960 and 1980.
Though it was done in traditional 2D animation, not stop-motion, The First Easter Rabbit tells a story somewhat based on The Velveteen Rabbit by Margery Williams. In the special, a little girl gets a stuffed rabbit for Christmas and calls him "Stuffy." Unfortunately, she gets Scarlet Fever and her doctor orders all of her clothes and toys taken away and burned in case they may be carrying the disease on them and thus prevent her from getting better. Stuffy the stuffed rabbit is saved by a fairy who brings him to life and sends him off to Easter Valley – a magical place at the North Pole where it's always springtime.
Unfortunately, a mean-hearted person called Zero doesn't like the fact that he can't make it snow in Easter Valley. Zero is in charge of keeping the North Pole cold and seems to have control issues. He knows there's a magic flower in the valley that keeps the winter away, but he can't find a way into the valley to steal it.
With help from some rabbit friends Stuffy meets on the way to the valley, and a little help from Santa Claus, Stuffy finds a way to bring baskets of Easter goodies to the kids in the town with the little girl, who has gotten better.
Though The First Easter Rabbit isn't my favorite of the Rankin/Bass productions of the era, I have to admit that I hadn't seen it since it aired in the mid-70s. And it was nice to be able to share its message of hope and celebration with my two daughters. And it's tough to beat Burl Ives, who not only narrates the show, but sings the song "The Easter Parade." There's something magical about Ives' voice, who was a part of many of the Rankin/Bass productions.
If you're looking for a good Easter gift, pick up a copy of The First Easter Rabbit, Deluxe Edition and hide it away for next year's Easter basket!
–Fitz
p.s. Pick up this and other Easter treats below!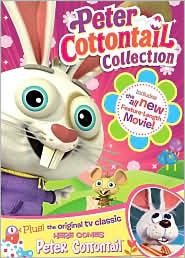 Related articles by Zemanta