Hi everyone…
Every once in a while, a movie comes along that pulls on your heartstrings. Yes, I'm a sensitive guy. I have to admit I like sports movies though, some of them anyway. And when you see a movie that combines an amazing story with sports, I'm either in the theater or have it in my queue on Netflix. The Blind Side is one of the best movies I've seen in a long time that preaches that family is important, regardless whether you're in the family by blood or not.
Michael Oher or "Big Mike" (played in a powerful, understated way by Quinton Aaron) has not had a good life so far. He can't live with his mother, Denise (Adriane Lenox), since she can barely take care of herself, so he's forced to wander place to place scrounging food and shelter where he can find it. Some take pity on him and lend him a couch now and then, but it doesn't seem to take long before he has to move on again.
Now put the Touhy family into the equation. Leigh Anne Touhy (Sandra Bullock) is the family matriarch and a successful interior designer. Sean Touhy (Tim McGraw) is a successful businessman in his own right, owning a chain of restaurants. Daughter Collins (Lily Collins) and son S.J. (Jae Head) round out the family.
One day on the way home, Leigh Anne spots Big Mike walking along the side of the road in the rain and she asks if he has a place to stay for the night. When he eventually says no, he begins his journey to a better place. He starts going to high school and playing football, eventually becoming the first-round pick as an offensive left tackle for the Baltimore Ravens in the 2009 NFL draft.
Based on a true story and the book The Blind Side: Evolution of a Game written by Michael Lewis, The Blind Side is a bit like Pygmalon with a little Cinderella thrown in for good measure. Lessons are learned on all sides by teachers, coaches, the Touhys, and Michael Oher.
Included on the single-disc DVD version are four deleted scenes. Like most deleted scenes, I can see why they might have been cut from the final product. However, at the end of the "Lunch Ticket" scene is a scene with Big Mike and science teacher Mrs. Boswell (Kim Dickens) that I would have liked to have seen in the movie. It showed a bit more of the realization that Mike was actually retaining knowledge from his classes and just couldn't take tests well, but when tests were given verbally he did better.
The Blind Side is an inspiring story that will sit proudly on my DVD shelf and get pulled out when I need a reminder about the importance of family. Be sure to check it out at your local rental or retail counter.
–Fitz
p.s. Pick up the movie and books at Barnes and Noble below: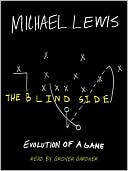 Related articles by Zemanta