Hey all…
What is it that causes a movie or television studio to keep a series alive when it should really just fade away quietly? Any combination of properties can cause a property's downfall – from a poor story to shifting actors, from lackluster animation and effects to just flat jokes… Any of these  might start the slide, but when all of them appear in a movie at the same time, it's time to just go home.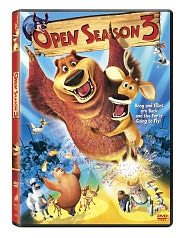 The Open Season animated movie series is about Boog, a domesticated grizzly bear (originally voiced by Martin Lawrence), and his best friend Elliot, a deer (originally voiced by Ashton Kutcher), as they have adventures in the woods with their crazy friends. The first movie (2006) focused on how the pair found each other and formed a lasting friendship in a forest populated by sassy skunks and Scottish squirrels. And honestly it was a lot of fun to see a domesticated bear (Boog) try to survive during hunting season as the forest critters turned the tables on the hunters.
The sequel, Open Season 2 (2008) continued the trend with Elliot (now voiced by Joel McHale) falling in love with Giselle (Jane Krakowski) and getting a bit lost on the way to the altar. Boog (now Mike Epps) and the gang become entangled in a plot involving an insane poodle Fifi (Crispin Glover) and wiener dog Mr. Weenie (Cody Cameron) as they try Mission Impossible-style to get Mr. Weenie home to his owners.
Each of the first two movies had great sight gags and fun characters to keep the plot moving forward, with enough bits to entertain kids and parents along the way. Unfortunately, that brings me to Open Season 3, which was released on DVD in late January 2011. Somehow all the life that was in the first two was sucked out of this one.
Now in Open Season 3, Boog (now voiced by Matthew J. Munn) is prepping for his "guy's trip" and discovers that all the other guys in the forest seem to have something else to do – working on the house, watching the kids, or simply spending time with their spouses. Even Elliot bails out on his best friend. As a result, Boog heads off to the woods by himself and stumbles on a traveling circus with two grizzly bears! One of them – Doug – offers to switch places with Boog so he could spend time with another bear. Once inside, he meets and falls in love with Ursa (Melissa Sturm) – a dancing female grizzly. When Boog discovers the circus is heading back to Russia, can Elliot and his friends save him in time?
The film for me never came together, though it was cute. It just seemed thin, focused almost entirely on Boog's adventures in the circus and leaving Elliot to deal with his three kids while his wife was out of town. The most entertaining parts of the film were in the background – such as the feline orchestra at the circus who appeared regularly and Serge (Danny Mann), a llama with a spit control problem. And of course Mr. Weenie's owners were back, first on a quest for bigfoot and later on a quest for UFOs in a lovely homage to Close Encounters of the Third Kind.
The animation was very disappointing and looked like something from a video game with the quality turned way down. From other reviews I've seen on the net, it appears that this production lacked budget and they did what they could with the money they had. Compared to the last two movies the shading, depth, and background detail simply weren't there.
In addition to the movie, the DVD also includes a game – the Runaway RV Game – and a progression reel that shows the work going from storyboards to the final shots in the film. It's always interesting to peek behind the curtain on one of these productions, but there wasn't much there.
Honestly, Open Season 3 was a bust for us. I think my daughters enjoyed it, but my wife and I found ourselves distracted by our cell phones and rarely entertained. Unless you're looking for a $1 Redbox rental for your kids, I'd let this one slide.
This article first appeared at BlogCritics.org here.
–Fitz
p.s. Pick up the other Open Season films on DVD and Blu-ray below…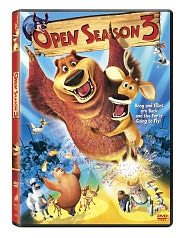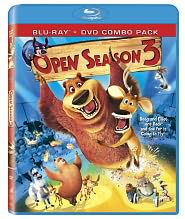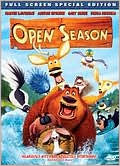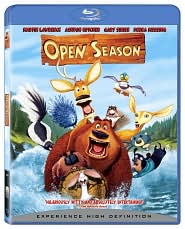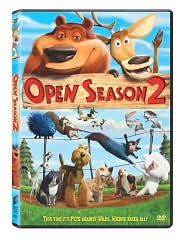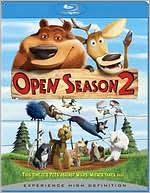 Related articles