Hi all…
I don't know many people (myself included) who didn't run into a few problems in school growing up. Whether it was bullies, mean (or boring) teachers, "friends", or anything else (the list was long in my case), it was never the ideal experience for anybody. Well, at least anybody I know personally anyway. There were always those "perfect" kids who could do no wrong, but I suspect karma rectified that situation with them later in life.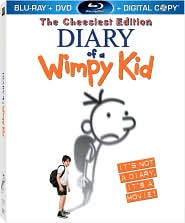 Based on the best-selling novel by Jeff Kinney, the movie Diary of a Wimpy Kid provides a glimpse into Greg Heffley's (Zachary Gordon) life as he enters middle school. He's joined by his best friend and well meaning but clueless kid Rowley (Robert Capron) and together they try to navigate the complex waters of middle school. Of course, it's not easy.
Greg has an older teenage brother Rodrick (Devon Bostick) who's the drummer in the band Loded Diaper. Rodrick does everything he can to make his younger sibling's life heck, including not bathing and sticking Greg's face in his armpit. Rodrick is more than a bully in the house however, he's also a source of amusement. Like when Rowley sees Rodrick wearing eyeliner and dressed for a gig with his band when Rowley says – "Wow. You're lucky. My mom doesn't let me play with makeup any more."
Greg's parents are well-meaning, but very strange. His mom (Rachael Harris) means well and tries to let her kids learn from their mistakes. At one point, she goes with Greg to a dance… And I can't say that I remember a Mom & Son dance during my school career, but I'm pretty sure I would have been mortified at that age as well. Greg's dad (Steven Zahn) tries to keep his boys masculine and prove that he can protect his family and house. To do this at one point in the movie, he goes so far as to splash kids he thinks are going to teepee their house on Halloween.
At school, things aren't much better for Greg. He thinks he has all the answers to become a popular kid, but all of his schemes backfire. And by the end, Rowley is popular and has disowned Greg because of all the mean things that happen. Angie (Chloe Moretz, Kick-ass, upcoming Let Me In) is the school journalist who encourages Greg to think for himself and stop trying to be popular – but of course he doesn't listen until the end.
Ultimately the story is about navigating one of those inevitable phases most of us go through of finding our way in the world. Each time the context changes, whether it's changing schools or changing jobs, we have to figure out how to make things work again. With Kinney's novel for source material and Thor Freudenthal's (Hotel for Dogs) direction, I think the film worked pretty well illustrating the pitfalls of treating school like a popularity contest.
Though the film didn't do great at the box office, it made more than $60 million at the box office with a budget of around $15 million (according to Box Office Mojo). That seems to be enough for a sequel to be in the works for March 2011 if everything works out.
"The Cheesiest Edition" package of Diary of a Wimpy Kid includes the Blu-ray, a DVD of the movie, and a DVD with a digital version on it. Also included in the packaging are a few pages from Rowley's "Diary of an Awesome Friendly Kid", which are just as endearing and clueless as Rowley is in the film.
On the Blu-ray and DVD for the movie are included some amusing and gross extras… Feature commentary with director Freudenthal and scriptwriter Gabe Sachs was interesting, but the Deleted Diary Pages were at times both disturbing and endearing. Though you might dismiss them as deleted scenes, the way they're presented seems to me that they are much more than that.
"Fregley's Scavenger Hunt" was… sick and wrong on multiple levels. Fregley (Grayson Russell) describes the various things he's found around school where you might not think to look. For example, one of his "treasures" is a piece of fudge under a girls' desk. He put it in his pocket. And when he merged the fudge with three fries he found under a tree and invented "fudge fries". I knew Fregley was weird, but I had no idea…
Another favorite of ours in the film was Chirag Gupta (Karan Brar) – the only kid in class smaller than Greg. In "Chirag's Trail of Tears" you learn his secrets to dealing with bullies… Most of his approach depends on hiding in lockers, beneath the bleachers, behind the big kid in gym, and so on. Of course, hiding doesn't always work – thus the "trail of tears" where he explains in gruesome detail the events he'd rather not remember.
But "Rowley's Lost Zoo-wee Mama Cartoons" was probably my favorite of the 10 deleted scenes. It's not as much a deleted scene as simply a collection of pictures of some of Rowley's "Zoo-wee Mama" cartoons that were published in the school paper. You only catch a glimpse of the cartoons during the film, so it's nice to see them included as extras. They're actually pretty cute – mostly dealing with something bad happening to a character asking a question in the first panel and having something bad happen to that character in the last panel.
I have to say that though the Blu-ray quality is excellent, it's a bit of overkill in this case and there weren't any additional features on the Blu-ray that weren't also on the DVD. So the benefits of Blu-ray, beyond better picture quality and providing a little additional downloadable content, was minimal.
That said, we really enjoyed the film as a family. We missed it at the theater and were looking forward to seeing it on DVD. Now that it's available, I'd recommend it to anyone looking for family-friendly fare to watch together. Look for Diary of a Wimpy Kid at your favorite rental or retail counter.
This article first appeared at BlogCritics.org here.
–Fitz
p.s. Pick up the movie and books from Barnes & Noble!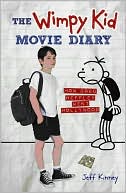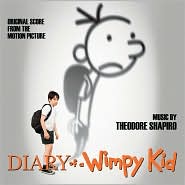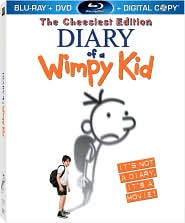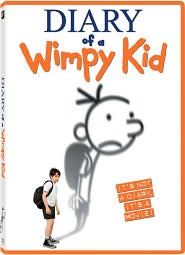 Related articles by Zemanta