Hey all…
Yes, I'm a cartoon junkie at times. But not the cartoons you might think. Case in point is the recent release of Bugs Bunny's Easter Funnies on DVD. I'm a huge Bugs Bunny fan and have loved all of the classic cartoon characters from the 1940s and 1950s, even though I grew up in the 1970s – Bugs, Sylvester, Tweety, Granny, Pepe Le Pew, Foghorn Leghorn, Daffy Duck, Yosemite Sam, and all the rest. But starting in the 1970s, the cartoons I saw were compilations of bits and pieces from those earlier classics mixed with bridging clips for continuity of a particular story or theme.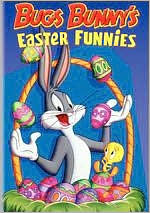 As a kid, I didn't catch on that the studios were doing this and I just enjoyed the shows. But as I got older, I noticed that the voices weren't the same for the characters in some places or that the animation style was slightly different here and there. And to see Bugs Bunny's Easter Funnies on DVD after all this time, it really drives home how weird those bridging segments really were in a few places. (It originally aired in 1977, which makes me feel really old!)
This collection is focused around the Easter Bunny, who is sick and can't deliver eggs to all the good little boys and girls who expect such things on Easter morning. EB calls Granny, who tries to find a suitable replacement. Bugs of course comes to mind, but he's required by contract to finish a few cartoons and won't be free in time to help. But together, Bugs and Granny hunt for someone else who might work. Daffy Duck of course thinks he's the best replacement and eventually steals the job (though Granny and Bugs know it's him), but along the way they watch several cartoons from other possibilities.
So if you were a fan of some of these collected shows, I apologize. This one is tough to complain about because it includes segments from some of my favorite WB cartoons of the classic era.
Sylvester and Tweety appear in a clip from "Birds Anonymous," which features Sylvester trying to go "on the wagon" and swear off our fine feathered friends. Obviously that doesn't go very well and Sylvester tries to eat Tweety. And when Sylvester's friend from Birds Anonymous tries to help but falls off the wagon just as quickly. This short won the Academy Award for Best Animated Short Subject in 1957.
"Knighty Knight Bugs" sends Bugs Bunny on a quest for King Arthur and the Knights of the Round Table to retrieve the stolen "Singing Sword" from the Black Knight (Yosemite Sam) and his vicious dragon. Though Sam puts up a valiant fight, in the end Bugs saves the sword and sends his foe to the moon. This short also won an Academy Award for Best Animated Short Subject in 1959.
Also included were clips from "Robin Hood Daffy" where Daffy Duck pretends to be Robin Hood and Porky Pig as Friar Tuck laughs uproariously at his antics. Even today, I still laugh when Daffy tries to use his "dollar and a quarter" quarter staff to protect himself. His "ho haha guard turn parry dodge spin ha thrust…" where he smacks himself in the head with the staff makes me giggle just to think about it.
Also included are clips from "For Scent-imental Reasons," "Sahara Hare," Rabbit of Seville," "Hillbilly Hare," "Tweety's Circus," and "Little Boy Boo." And you get a bonus short – "His Hare-Raising Tale" – and a set of interactive puzzles on the DVD.
Now if the DVD just included each of those classics in their entirety, I would have called this a great bargain. But you only get snippets of each pasted together with this forced plot of finding a replacement for the Easter Bunny.
However, if you have kids, Bugs Bunny's Easter Funnies isn't a bad way to have them spend about 50 minutes to have a good time. I know my two daughters enjoyed it and they hadn't seen it before. Look for it at your favorite rental or retail store. But if you're looking for the full versions of these classic cartoons, I'd look for the Looney Tunes DVD collections on DVD.
–Fitz
p.s. Pick up some of these great Bugs Bunny shows on DVD!
Related articles by Zemanta