Hi there!
When I was a kid growing up in the 1970s, Sesame Street was a good friend on the television. My parents knew it was safe to leave me in front of the TV for an hour. And when the Electric Company was on, it was a two hour event. Now as a parent, I know the content has changed but the quality remains high and I trust Sesame Street to educate and entertain this new generation just as well as educated me.
The Sesame Street: 20 Years and Still Counting documentary was produced in 1989, covering the first 20 years of its continuing run on PBS. The series has continued to have another 20 years of success since then, so I can hardly wait to see what the show looks like in another 20! The documentary, hosted by Bill Cosby, provides a look back at the beginnings of the series, from its humble beginnings in 1969 to the worldwide acclaim and adoption it's seen since then.
Watching with my two daughters, the video looks out of date but offers a great historical perspective on the series' amazing legacy. Not only do you get some wonderful musical performances from Ray Charles and Plácido Domingo, but you get to hear from some of the actors who have called Sesame Street their home forever. What was more interesting to me was that Jim Henson appears to introduce the show, only a year before his untimely death. Neither of my girls knew him on sight, but when I mentioned the name they knew immediately who he was.
Seeing a much younger Luis (Emilio Delgado), Maria (Sonia Manzano), and Bob (Bob McGrath) really took me back to my childhood. It was quite obvious that the trio believed in the series from the beginning – not only as an integrated cast, but the first educational show to focus on using a curriculum to teach kids the alphabet, their numbers, language skills, shapes, colors, science, and much much more. Though the series went through occasional cast changes, such as when Mr. Hooper (Will Lee) passed away in 1983, that core trio has remained in place for more than 40 years now.
Add to that the many characters who call Sesame Street home – Bert and Ernie, Grover and the Grouch, Big Bird, Cookie Monster, Kermit, and the whole gang – and you end up with a snapshot of that wonderful world. Cosby, with his usual humor and style, manages to interact with them all and give us a walking tour of the street most kids across America (and around the world) know and love.
It was very interesting to listen to the Sesame Street theme in different languages and see how different countries and cultures had adapted the show for their own children. Big Bird as a parrot instead of an eight foot yellow bird was fun to see, and listening to the theme song in Spanish, French, and Hebrew was intriguing. It's amazing to think that kids in Germany, Israel, the West Bank, the Netherlands, and elsewhere are all benefiting from the pioneering work done by the show creators Jim Henson and Joan Cooney.
I have to admit that it's a bit odd to me that Lionsgate chose now to release this special on DVD, but I think it proves the staying power of one of the tent poles of public television. Today, just like every day for the last 40+ years, children around the world have tuned in to learn and have fun at home.
Though I think this documentary will appeal more to parents than to kids, Sesame Street: 20 Years and Still Counting provides a historical record of the great work Sesame Street has done for four decades and will hopefully do for my grandkids over the next 20. Hopefully we will see more of these "messages in a bottle" from the past to inform the viewers of tomorrow about the enduring legacy of this series.
This article first appeared at BlogCritics.org here.
–Fitz
p.s. Pick up this and other great Sesame Street DVDs below!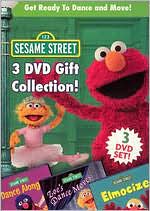 Related articles by Zemanta