Hi there…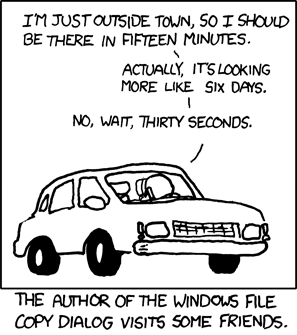 There are a few web comics that are my guilty pleasures… Each morning I take a look at Questionable Content (often NSFW), xkcd, and Dilbert among others.
This morning when I fired up the xkcd site, I got this comic about estimation…
And I nearly fell off my chair. Like anyone who deals with Windows daily (though now I'm dealing with Windows and Linux), I have often been hit by this bizarre computation of time while copying a file… Time is not a constant, it's a steadily changing value when you wait for a file resource to finish copying… And I've seen it do the 15 minutes to 6 days to 30 seconds stream of consciousness many, many times.
I love xkcd. It's hilarious!!
–Fitz
Related articles by Zemanta