Hi!
As a fan of the classic Tom and Jerry cartoons from MGM in the 1940s and '50s, I've often been disappointed in recent attempts to revitalize the series. Somehow shows like Tom and Jerry Kids in the early 1990s and Tom and Jerry Tales just a few years ago fail to capture the innocence and fun of the initial shorts from William Hanna & Joseph Barbera.
However, I am surprised and pleased to say that the recent release of the new Tom and Jerry Meet Sherlock Holmes feature on DVD manages to capture more of the classic feel of the early antics of this cat and mouse pair while putting them in an entirely new storyline that also brings in many of their familiar friends along the way…
If you've been living in a cave for the last 70 years, Tom and Jerry first appeared in the short "The Midnight Snack" by Hanna and Barbera in 1941 after another of their shorts – "Puss Gets the Boot," released in 1940 – became a big hit with theater owners. From 1941 until until the end of their careers in 1958, Hanna and Barbera created more than 100 more Tom and Jerry cartoons for MGM. Since then, Tom and Jerry have been a mainstay on television enjoyed by several generations of viewers.
The basic premise behind most of the Tom and Jerry cartoons is that Tom, a lazy housecat with a taste for mice and a knack for getting into trouble, is constantly trying to catch Jerry, a little brown mouse with a mischievous streak and a taste for people food. Scattered throughout the many shorts, Hanna and Barbera created other unforgettable characters as well… Spike, a big not-so-bright bulldog, and his son Tyke… Butch, a rival tomcat who also wants to eat Jerry… Toodles, the beautiful and unattainable girl cat Tom falls in love with again and again… Tuffy, the always hungry little mouse that sometimes appears as Jerry's nephew who charges in where little mice should fear to tread… Droopy, the small but wily Basset Hound who speaks slowly and can, when angry, defeat the largest foes with ease… The list goes on and on.
In Tom and Jerry Meet Sherlock Holmes, Jerry lives in Sherlock Holmes' flat at 221B Baker Street in London during the late 1880s. Dr. Watson comes to visit to tell Holmes about another in a series of jewel robberies when Tom appears with a note asking for help from Red, a beautiful cabaret singer. Though Tom and Jerry try to do harm to each other throughout the feature, in the end they, Holmes, and Watson manage to help solve the mystery of the missing jewels and whomever is stalking Miss Red.
Throughout the 50 minute feature, we catch glimpses of some of Tom and Jerry's classic friends. Droopy makes an appearance as a bumbling bobby with Scotland Yard. He and Spike try to catch Miss Red, as they believe her to be behind the jewel thieves. Tuffy works as a priest at the church and provides sanctuary when the group needs a place to hide. You even see Barney Bear as he installs mirrors all around London and the Big Bad Wolf howling at Red during her cabaret show.
Though this feature is short, I have to admit that I really enjoyed the cartoon with my daughters. We laughed out loud numerous times at the slapstick antics of the cat and mouse. Unlike the recent Tom and Jerry Tales series, there's a purpose to the characters in the story that provides a structure for the craziness that goes on along the way.
In addition to the feature itself, there's a "How to Draw Tom and Jerry" feature that is done by Spike Brandt from Warner Brothers Animation. Using a few simple steps, Brandt walks viewers through drawing Tom and Jerry's distinct portraits on paper. My two girls with art skills are really looking forward to trying out the techniques described. We'll have to see how it turns out.
If you're looking for a new way to share the fun of Tom & Jerry with your kids, I'd definitely recommend giving Tom and Jerry Meet Sherlock Holmes a look. We had a lot of fun with the cartoon and look forward to see what's next for the cat and mouse!
This article first appeared at BlogCritics.org here.
–Fitz
p.s. Pick up this and other great DVDs from Barnes & Noble below…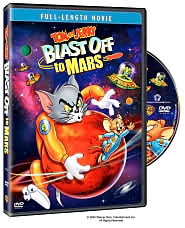 Related articles by Zemanta