Hi all!
A while back, I provided a brief review of the first few chapters of K.J. Parker's book Devices and Desires, the first book in The Engineer Trilogy. I polished it off yesterday afternoon and all I can say is WOW!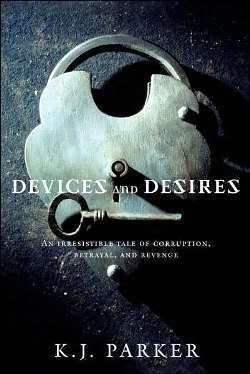 This is one heck of a book, weaving the stories of Ziani Vaatzes, Duke Orsea, Valens, Orsea's wife, The Ducas, and a cast of literally thousands who die in the war Vaatzes engineers all into a stunning narrative.
My favorite characters are still Ziani Vaatzes (the engineer) and Miel Ducas (Orsea's best friend and staunch protector). But Valens has promise with his keen wit and burgeoning romantic streak. Who knows what Vaatzes will do next!?!
I won't spoil it. You can see my previous comments here.
Suffice it to say this is one of the most interesting fantasy novels (almost verging on Steampunk with the mechanical aspects) that I have read in YEARS!
I look forward to the second book, Evil for Evil, but will read Michael Crichton's Next to clear my palate before picking it up — as somehow I bet I won't be able to put the next book in the series down either. 🙂
Pick it up at a store near you or at Amazon (link below). If you're a fan of fantasy where the magic isn't of the spellcasting variety, you should enjoy it!
Let me know what you think!
–Fitz