Hey!
It's rare for me to find nonfiction as engaging as fiction. I live in a world of facts and figures and typically want to escape into fiction, usually fantasy or science fiction, when I have an opportunity to read. Yet somehow David Grann's journalistic style and storytelling ability managed to cut through that reluctance and capture my attention, just as he did with The Lost City of Z a year ago. However he's gone about it in a slightly different way with The Devil & Sherlock Holmes.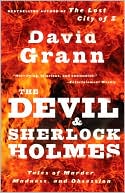 Where The Lost City of Z was a longer narrative told across several chapters, The Devil & Sherlock Holmes takes a 60 Minutes approach. Diving deeper into several different stories, Gann focuses on "Tales of Murder, Madness, and Obsession." This book collects twelve articles from Gann's work at The New Yorker, The Atlantic, the New York Times Magazine, and The New Republic. The stories run the gamut from the mysterious death of an expert in all things Sherlock Holmes, to the search for a giant in the ocean deep, the possibly wrongful execution of a man accused of killing his family in a fire, and the bizarre criminal world of the Aryan Brotherhood.
My favorite of the articles focuses on the quest of New Zealand's Steve O'Shea, marine biologist. Beyond the special effects of 20,000 Leagues Under the Sea and Pirates of the Caribbean, I really didn't know much about the mysteries of the giant squid, sometimes called the "kraken." China Mieville's book Kraken recently took a Lovecraftian-influenced urban fantasy approach to the Architeuthis (scientific name for the giant squid), but beyond the fictional cult-like fascination for these secretive creatures I had no clue there was a real life counterpart.
Now I know bit more about the obsessive search by many people and groups around the globe all hoping to capture a live specimen for study. O'Shea is hardly alone as he and his assistant run out to sea in a little boat in the middle of the night seeking his elusive prey – minuscule baby squid that he takes back to a tank in his lab in the hopes that they will grow to giant size. Grann was a brave man to travel in the tiny boat off the coast of New Zealand as a storm blew in and they struggled to haul in hand-made traps to see what they'd caught. Like Captain Ahab searching for Moby Dick, O'Shea and his peers won't be satisfied until they've found their prey…
Then I gained even more respect for Grann as he showed even more courage diving into the prison world of the Aryan Brotherhood. To not only enter some of the prisons with the most hardened criminals and worst reputations, but to speak in depth with several of them over many visits requires you to be dedicated, brave, and perhaps a little crazy. This is a totally different madness than seeking a giant squid in stormy seas riding in a dinghy. The criminals Grann spoke to are frightening people living in a frightening world and yet I read with rapt attention as I learned how the group began as white supremacists and spread into other criminal enterprises such as gambling and drug dealing bringing in millions of dollars a year within the prison system itself.
Whether you occasionally delve into nonfiction or read it regularly, David Grann puts a face and voice to some amazing stories sure to keep you engaged cover to cover. Be sure to check out The Devil & Sherlock Holmes at your favorite bookseller!
This article first appeared at BlogCritics.org here.
–Fitz
p.s. Pick up these great books from Barnes & Noble below!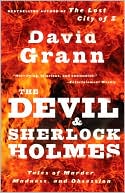 Related articles