Here's a blast from my past…
Back when I was in college, I worked for a magazine for a while called GIS World. I helped out in the advertising department doing odd jobs a few hours a week and learned a bit about how magazines were put together. During that time, I worked with a guy named John Hafnor who worked as the Director of Sales and Marketing at the magazine for over a decade. So when I saw he was writing a new series of books about strange tales from American history, I knew I had to give it a look!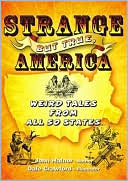 John wrote Strange But True America and Dale Crawford did all of the amazing illustrations throughout the book. The tales between the covers show the bizarre nature of American life from before there was a United States to the last decade or so. And the stories, as the book says on the back cover, are "a 50-state tour de force or every oddball fact missing from standard history books."
For example, take the gorgeous state of Alaska. Did you know that one of the craziest April Fool's Day pranks ever was done in 1974 in Alaska? About 13 miles away from Sitka, Alaska, lies Mt. Edgecumbe. It's an extinct volcano about 1300 feet high that's been dead forever. Well, on April 1, 1974, people in Sitka were calling the police and radio stations to see what was going on – there was smoke coming out of the top of Mt. Edgecumbe. Turns out that Sitka's legendary prankster, Porky Bickar, had arranged to have more than 200 tires and smoke bombs dropped in the crater. Porky then dropped diesel fuel and a match in to cause all the commotion. Who knew that making an extinct volcano appear active would get so much attention? Evidently Alaskan Airlines had pilots divert over the crater to get a peek and the Associated Press sent the news around the world… One heck of a prank!
Another story in the book told the tale of 4-year-old May Pierstorff from Idaho. Her folks couldn't afford a train ticket for a visit to her grandma's house 75 miles away, so they decided to just pop their daughter in the mail. Evidently in 1914, there was a limit of 50 pounds per package and little May only weighed 48.5 lbs. With her 53 cents in stamps pinned to her coat, the little girl was delivered without fail to grandma's house by the train's mail clerk – who just happened to be her mother's cousin. Somehow I don't think we could get away with that today.
Finally, here's a story about a house in Wisconsin built at the bottom of a hill with large boulders on top. On April 24, 1995, a 55-ton boulder fell and bounced nearly 500 feet, crashing through the roof and landing in the master bedroom of this house. Thankfully, the lady of the house had just left the room after taking pictures of the recent remodeling. Funny enough, in 1901 there was another house on the same property – all that was left in 1995 was a garage built on the spot. Evidently a boulder fell on that house in the middle of the night and landed on the couple sleeping in the bed. The wife was killed instantly, but her blind husband fell into the cellar and only had a small bump on his forehead. Does the land these homes were built on have some kind of boulder-attracting property I wonder?
The book is full of weird little facts like these. And each is kept to a single page, with the story told on the left and a full page illustration on the right. So these are perfect for digesting a few at a time if you don't have time to read. The illustrations are amusing and very detailed to go along with the stories themselves.
For more information, check out their web page at http://www.strangetrueus.com. There are some samples from the book as well as a list of educator resources if you're looking at using these tales in a classroom. As a former history teacher himself, Hafnor knows the power of a good tale to intrigue students and keep them interested!
If you're a history fan and love weird but true tales, I'd urge you to find and pick up a copy of Strange But True America at your favorite online or brick-and-mortar bookseller. Hafnor and Crawford have put together an amazing array of stories to keep you entertained from cover to cover.
–Fitz
p.s. Pick up these books today!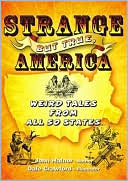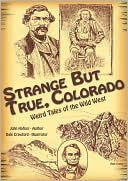 Related articles by Zemanta