Wow…
What a difference a second book makes… I read Robin Hobb's The Dragon Keeper back in March 2010 and enjoyed it, but felt that it was really just getting going by the time the dragon keepers were chosen by the Rain Wild Council more than halfway through. Dragon Haven picks up where the action lets off in the first book and doesn't let up until the end, providing a much more satisfying and quicker read than the first book.
Dragon Haven is the second book in the "Rain Wilds Chronicles" by Hobb, which is set in the world she's created for previous series such as the Liveship Traders Trilogy. The Chronicles center on the people living in and around the Rain Wilds, a place of rivers running white with acid, dragons, interesting critters, and magical items left over from a vanished people. Some of the characters in the story are from Bingtown, a bigger town where the rules of society reign supreme and image is everything. And the rest are touched in some way by living in the Wilds, whether deformed or mutated in interesting ways by their continuous struggle against the natural order of the marshy area or in how they live as traders on the river.
The Dragon Keeper introduced us to the main characters in the story and the second book continues their journey…
Thymara is a child of the wilds, born with claws instead of fingernails. According to her people's customs, she should have been left to die – but her father saved her and she grew up learning to hunt and forage in the treetop world in which she grew up. Chosen as a keeper, she ended up paired with the dragon Sintara, a beautiful queen bound and determined not to be dependent on her keeper.
Alise Kincarron grew up in Bingtown as a Trader's daughter. She was shunned by society for her passion for learning all she could of dragon lore and the Elderlings, a people changed by the dragons who served as their connection with mankind. In the first book, she was courted and married to Hest Finbok, a successful Trader and businessman in need of an heir. The marriage of convenience with Alise allowed him to keep up appearances and allowed her to have access to more resources for her research, though there was a price to pay for such convenience.
Hest's right-hand man was Sedric Meldar, a friend of Alise's from her childhood. He served as Hest's secretary, but also kept many of his secrets. Sedric was sent with Alise into the Rain Wilds so that she may see the dragons before they headed upriver to find the elusive and lost Elderling city of Kelsingra. But he had a secondary purpose to the journey that led him down a dark path…
And Leftrin, captain to the liveship Tarman, is tied to the dragons in his own way. In the first book, he found a wizardwood log – a dragon cocoon – washed far into the Rain Wilds. He and a hand-picked crew took it and worked the magical "wood" into his liveship to make it even more powerful than before. When the Tarman is contracted to help guide the keepers and dragons upriver, Leftrin becomes entangled with Alise and Sedric and falls in love with the Bingtown woman.
Dragon Haven continues the journey of the Tarman, keepers, and dragons upriver to find the mythical Elderling city of Kelsingra. Nobody knows if the place is real or imagined by the dragons, but they continue searching for clues as they delve deeper into the uncharted territory of the Rain Wilds.
Along the way, the dragons, keepers, crew of the Tarman, Alise, and Sedric learn more about themselves each day of the expedition. The dangers of the acid waters and simply finding enough food and fresh water to keep everyone alive would be tough enough, but unexpected dangers force everyone to reevaluate their situations and possibly even find happiness or at least understanding as they journey on.
I don't want to spoil too much of the plot, but I will say that the end works extremely well to tie up many loose ends in a satisfying way without closing the door on future books exploring the world Hobb has created.
As I said in my review of The Dragon Keeper, this is serious, adult fantasy dealing with complex issues. I found it interesting that in the first book there was an unwelcome sexual act (Hest forcing himself on Alise on their wedding night) and in Dragon Haven we deal with almost a Lord of the Flies situation with a coed group of keepers roaming free with little or no adult supervision. This leads to some sexual experimentation by a few characters and an incident of voyeurism that leads to conflict among the keepers throughout the story.
Both books of the series deal with tough topics like marital fidelity, homosexuality, young lovers, and being social outcasts, but eventually most characters gain a better understanding of themselves and what they want or don't want from their new lives with the dragons. It hits me a lot like young people growing up in our own society these days. Kids have to grow up fast as they're thrust into much more adult situations much earlier than ever before.
If Dragon Haven is a product of Robin Hobb at her best, I may now have to check out some of her other books! This novel provided fast action, deep emotional bonds, and a great ending that leaves the door open for further adventures by the characters. If you were disappointed by The Dragon Keeper, I'd encourage you to check out Dragon Haven and give Hobb another chance. I wonder what she has in store for us next…
This article was originally published at BlogCritics.org here.
–Fitz
p.s. Pick up Dragon Haven and other Robin Hobb books at Barnes & Noble!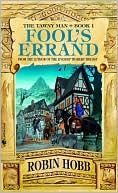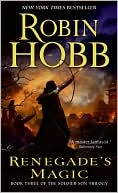 Related articles by Zemanta