Hi all!
Have you ever heard of a "dime novel"? How about a "penny dreadful"? These were short books of pulp fiction popular in the 19th and 20th centuries in the United States and Britain. Each small booklet had a story or part of a series that was inexpensive, costing much less (5 or 10 cents) than a full sized book did during the same time period. Many of these during the 19th century focused on the "wild west" and the exploits of sensational characters such as Buffalo Bill and Annie Oakley.
Well, evidently they're making a comeback! Starting in January 2010, a new series written by Guido Henkel merges the feel of Sherlock Holmes tales with the monster-hunting mentality of TV's Supernatural. Set on the streets of Victorian England, it seems London is in need of a hero and "Jason Dark: Ghost Hunter" is there to fill the bill.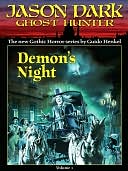 Demon's Night is the first in the series, introducing our brave hero. Dark comes from a long line of ghost hunters and he is the "Geisterjäger" of his generation. Armed with a magical sword, Dark hunts for the things in the dark preying on his fellow man. And in this adventure, we find him following the trail of a number of bizarre deaths along the waterfront… each victim somehow drained of bodily fluids and left looking like a mummified corpse.
Along the way, he saves the life of Siu Lin, the daughter of Chinese immigrants who are tragically killed by a demonic entity. Dark and Lin stalk the streets and graveyards of London seeking clues as to the creature's origins and looking for a way to stop it's reign of terror…
The book itself is 62 pages and a saddle-stitch binding, basically a stack of 31 8.5″ x 11″ pages folded in half length-wise. It feels much like a small magazine, making it easy to slip in a briefcase or purse to take along for light reading.
It honestly took me a little while to get into the groove as I was reading Demon's Night. The style aims to be like that of Sir Arthur Conan Doyle with a deep feel for the streets, attitudes, and locations of Victorian England. And occasional grammar or spelling gaffes may have been intentional to keep with the writing of that era. But each time I found one (there are a few), it yanked me out of the story and I had to fight to get back into it again. (Update: Heard from Henkel that the spelling issues have been resolved in later copies of the book.)
That said, I felt it really hit a stride about halfway through after Dark and Siu Lin start working together. The camaraderie helped the story, setting, and characters gel more the further I went. It definitely hit me as a fun pulp fiction style adventure that has many avenues to explore in the "monster hunter" realm.
If you're looking for a quick story in the vein of a lighter Sherlock Holmes-style adventure, I'd recommend you pick up Henkel's Jason Dark: Ghost Hunter — Demon's Night. It's available in hardcopy for a small fee, and on Amazon for the Kindle, but you can find it online at JasonDark.com for free. I have the next story – Theater of Vampires – waiting here to read and will be interested to see where Jason Dark goes next!
This review first appeared at BlogCritics.org here.
–Fitz
p.s. Check out JasonDark.com for more details or get the hardcopy version from Barnes & Noble below!
Related articles by Zemanta