Hello again…
These days I am often intrigued by cover blurbs for novels, but rarely surprised by the words within. Mira Grant's novel FEED starts out innocently enough but morphs into a complex, amazingly intelligent, engaging story that kept me reading late into the night a few nights. This is not your average zombie story and easily in the top three books I've read so far in 2010.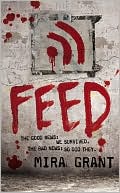 FEED follows the exploits of bloggers Georgia and Shaun Mason and their friend Buffy as they not only work to make a living but survive in a world where zombie outbreaks are matter of fact. Georgia or "George" is the Newsie, focused on reporting the facts and getting at the truth of a story. Shaun is an Irwin, living for those adrenaline-inspiring chances to poke zombies in the wild. And Buffy is the Fiction queen, writing poems and stories about whatever topics seem to be hot at the time. When the trio is chosen to follow Senator Ryman's path to the White House, it signals their chance to enter the big time of running their own blog network instead of writing for others. But it also leads them deep into a rabbit hole of intrigue and danger they don't really expect.
The first few chapters serve as an introduction to the Mason siblings' world, innocuously sucking you into liking these quirky characters and the bizarre zombie world they inhabit. It starts slowly as Grant rolls the Trojan Horse through your front gate and sets you up for an emotional thrill ride of politics, espionage, terrorism, and murder. I urge you to let Grant lay her trap and you'll get plenty of zombies, but soon see that the real monsters, just like in our own world, are all too human.
The usage of blogging as a platform for news in a world where people spend their lives isolated and alone, afraid to gather for fear of a zombie outbreak, was inspired. As a blogger, I can identify with the characters' quest for identity in a web crowded with other folks doing the same. I found the blog posts between chapters and sections to share information the main characters wouldn't normally exchange in public or with each other, making them almost intimate even though they're shared with millions of fictional readers on their site. It's one more way Grant brings the reader into the equation. I told you it was a trap!
What caught me off guard was how emotionally charged this novel becomes as you sink deeper and deeper into George and Shaun's lives on the campaign trail. There were multiple scenes where I found myself distraught at what happens. And as you piece things together with Georgia, you struggle along with her to determine how much the truth is worth. Is it worth pain and discomfort? Sure. How about death and destruction? Well…
The story holds many twists and turns as well, but in the final buildup you know enough to agree that George, Shaun, and their friends are putting their lives on the line for a good cause. Nothing holds a candle to the truth. These are powerful characters trying to do the right thing at all times. It's because of those ideals and their actions to protect and project them that these characters are easy to identify with and root for. And it makes those painful scenes where bad things happen to good people that much harder to read.
Honestly, if you only read one book about zombies this year, read Mira Grant's FEED. I can hardly wait for the next book in the Newsflesh series – Blackout. Be sure to check out FEED at your favorite local bookseller or online merchant.
–Fitz
p.s. Pick up FEED and other zombie fiction at Barnes & Noble below!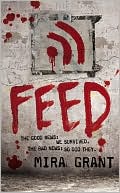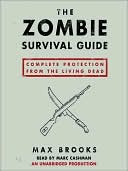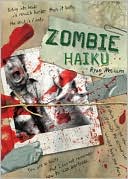 Related articles by Zemanta