Hey there…
Historical fiction is not one of those areas I usually dabble in when looking for a book to read. Quite honestly, I'm more apt to find an actual history book than read fiction based on a historical figure or period. But I have to admit that Jayden Woods' debut novel – Eadric the Grasper: Sons of Mercia, Vol. 1 – puts an interesting spin on a figure I had never heard of.
Apparently Eadric (or Edric, depending on the source) Streona was a Saxon who gained the ear of King Ethelred II early in the 11th century. Though a commoner by birth, it is claimed that he worked his way up the noble tree by assassinating the King's opponents. Beyond that, he may have also acted as a go-between between the Saxons and the Danes, who had been attacking the Saxon coast. Eadric supported paying off the invading forces, while others supported attacking them outright.
The upshot of all of this was that Eadric was suspected of many crimes during his time… from suggesting the assassination of a group of Danes peacefully living in England to murdering several other nobles in Ethelred's court.
Woods proposes a different view of this vilified character in English history. Instead of acting with truly villainous intent, she paints Eadric as a person trying to do what he thought was right to keep the peace between the Danes and his countrymen. He goes from a swineherd to an advisor to King Ethelred after a chance meeting and things snowball from there as the King began to rely more and more on his counsel.
Eventually he marries the King's daughter, Eadgyth, which further aids his rise to power. She turns out to have secrets of her own and seems to be tied somehow to The Golden Cross, a mysterious figure providing battle plans to Saxon leaders to aid in fighting back against the continual Danish invasions.
Though this is her first book, I have to admit that it worked really well. Her style involves the use of a great amount of detail, which bogged me down a bit, but the story is engrossing enough to keep things moving along fairly quickly. The constant political intrigue, backstabbing, and mixing of people of both noble and common birth kept me going to the end.
The other thing that I really enjoyed was her attention to the little crunchy details about medieval life. Describing the conditions of a desperate famine early in the book, she says "Men and women from across the land came to Eadric and bowed thei rheads, offering their loyalty and servitude in exchange for a loaf of bread. When the grain stocks were low, Eadric ordered that acors, peas, bark, and beans be ground into subsidiary flour. He saw that the hedgerows were well tended, so that if all else failed, his servants could pick off herbs, roots, grasses, and nettles to cushion their empty bellies…" In the modern world, I can hardly imagine such a thing happening today in the United States, but suspect that it's still happening far too often in the Third World or even in severely depressed areas.
I think Woods has a bright future in historical or fantasy fiction and she's already been hard at work on two sequels – volume 2 is Godric the Kingslayer and volume 3 looks like it will be Edric the Wild. And if that's not enough, she also has a book of short stories set in the world of the Sons of Mercia called Lost Tales of Mercia.
If you're a fan of historically-based fiction, I'd definitely recommend that you give Eadric the Grasper: Sons of Mercia, Vol. 1 a read. Also be sure to check out Jayden Woods' website for additional details!
This article first appeared at BlogCritics.org here.
–Fitz
p.s. Pick up these books from Barnes & Noble below: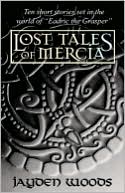 Related articles