Hey there…
There's nothing like the feeling I get when I discover a new writer. It's like opening a door to a brave new world. Sometimes I have to admit I don't like what I find on the other side. But then there are those rare moments when I get there and don't want to leave. Discord's Apple from Carrie Vaughn drew me in from the opening chapter and didn't let me go until I finished the book just a few hours later.
This is the story of Evie Walker, a successful comic book writer from Los Angeles, and her trip home to Hope's Fort, Colorado, to help her father Frank face his own mortality. It's also the story of Alex, a stranger who has truly seen it all who is looking for something he can't seem to find. Together, Evie, Frank, and Alex face new challenges as the mysteries around them deepen and things really hit the fan.
Let me start by saying that, though I love Colorado authors, I'd never read anything by Vaughn. She lives in Boulder, Colorado, which is only a couple of hours away from me in Colorado Springs. And evidently she's been writing about a werewolf named Kitty for a while now in a series of urban fantasy novels – the latest of which is called Kitty Goes to War. So how have I managed to miss her?
Discord's Apple was paced amazingly well. From the subtle beginnings of Evie's drive into the tiny town of Hope's Fort to the way she slides characters from myth and legend into play alongside the heroes of the comic book Eagle Eye Commandos, the plot builds and beckons the reader ever forward and back from present to past and back again.
But not since reading Dan Simmons' books Illium and Olympos, which managed to weave the Trojan War and Greek gods together with a far flung science fiction, have I seen those stories made relevant. Vaugn masterfully tangles the tale of Sinon, the liar who encouraged Troy to open its gates, with a different spin on the Greek gods that grants Sinon the curse of immortality.
Somehow she also manages to mix in the tales of Longinus, Arthur, and the glass slippers of Cinderella while bringing in elements of the warehouse from the end of Raiders of the Lost Ark where a nameless government employee stashed the Ark of the Covenant. Add to that a sprinkle of a world where the balance of power has tipped enough to make everyone paranoid…
However, at no time in the novel did I feel that any of these elements was ever out of control. Somehow she tames these tornadoes, each of which has their own Oz attached, and pulls them into a coherent tapestry of plot, character, and story. I don't know how she did it. I only know that I really enjoyed it and want to know what happens next!
So if you're looking for a book for summer reading, be sure to add Discord's Apple by Carrie Vaughn to your list. It's a fun ride. Now I have to go back and see what all the fuss is about this werewolf named Kitty…
For more information about Vaughn, be sure to check out her website at CarrieVaugn.com and look for her books published by TOR/FORGE!
This review first appeared at BlogCritics.org here.
–Fitz
p.s. Pick up this and other Carrie Vaughn books below!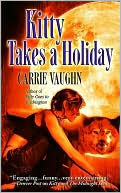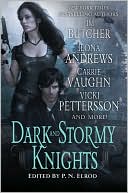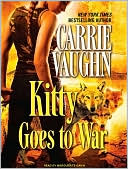 Related articles by Zemanta