Hi there!
Kids' books are a funny thing sometimes. One book might provide an exciting adventure but be light on substance while another might have too many lessons packed into a story that won't hold a child's interest. Lately however, there have been many authors who have provided great fiction with just the right level of moral lessons, history, or mythology – the Harry Potter series from J.K. Rowling and the Percy Jackson series from Rick Riordan are great examples and two of our current favorites.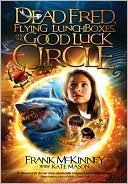 But Frank McKinney isn't someone I would have expected to write or been involved with one of those "just right" books for children. McKinney is the author of multiple best-selling books, including The Tap, Burst This! Frank McKinney's Bubble-Proof Real Estate Strategies, Frank McKinney's Maverick Approach to Real Estate Success, and Make it BIG! 49 Secrets for Building a Life of Extreme Success. The closest a child might come to one of these books is as an impromptu step stool or booster seat.
However, McKinney was inspired by his adventures walking his daughter Laura to school through the years. As a father, I certainly understand the power of spending as much time as possible with your kids and their imaginations as they grow up. They grow up so fast that it's far too easy to miss things if you don't.
That's just one of the lessons hidden inside Dead Fred, Flying Lunchboxes, and the Good Luck Circle (or just Dead Fred for short). The book tells the story of Ppeekk (pronounced "Peekie") Rose Berry – a thirteen year-old girl forced to relocate from Indiana to Florida. Walking to school on her first day of school, she encounters a strange little man on the back of a cement truck who blows a magical smoke ring. Soon after that, she encounters a dead fish who comes back to life in her hands and talks to her. And that's just the beginning…
It took a long time to work through this book with my two daughters, ages 5 and 9. Not because the book wasn't entertaining or well written, but because things kept getting in the way. Finally we managed to find the time to get all the way through Ppeekk's story and her adventure with her friends Mini Romey, Quatro, and the rest of the gang – and it was well worth the effort!
Dead Fred leads readers on a magical journey above, around, and beneath the waters of an inlet near Ppeekk's house into Dead Fred's underwater kingdom of High Voltage. Dead Fred, also known as King Frederick the 9th, was regent of an area teeming with ocean life. But there's a problem. Dead Fred has been deposed by Megalodon, a huge, evil prehistoric shark who wants to turn everyone above and below the water into joyless zombies.
As Ppeekk and her friends learn more about what they are capable of and what Megalodon and his minions (vicious crabs and remora fish) are capable of, they begin to understand the dire situation that High Voltage finds itself in. Dedicated to helping Dead Fred save his kingdom, the kids learn just as much about themselves as they do about the amazing creatures beneath the sea as they struggle to find some way to get rid of Megalodon for good.
We had a lot of fun reading this story. Even my five-year-old daughter was engrossed right away – as soon as Dead Fred spoke, she was hooked to the end. In the book's 300 pages, kids learn about many of the creatures of the sea as well as how to treat themselves, their friends, their parents, and the world around them. And what was amazing was that it wasn't preachy at all – the message seemed very genuine and organic, not forced.
If you're looking for a fun book with many great messages for kids, Dead Fred, Flying Lunchboxes, and the Good Luck Circle by Frank McKinney and Kate Mason presents a perfect opportunity to read together. Great characters, amazing adventures, and learning opportunities await within! For more about the book, be sure to check out Dead-Fred.com.
This article first appeared at BlogCritics.org here.
–Fitz
p.s. Pick up this and other books from Frank McKinney at Barnes & Noble!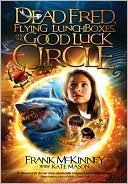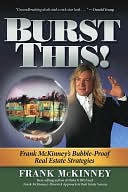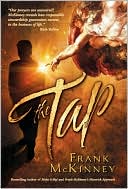 Related articles by Zemanta