Hi all…
Every once in a while, I find a book that is impossible to put down. City of War by Neil Russell is one of those books. And for a first time novelist, this is a heck of a story.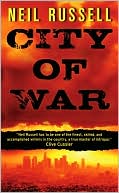 Consider for a moment the works of a few thriller authors… a little Robert Ludlum, a bit of Clive Cussler, a smidge of Elmore Leonard… toss in some art and history knowledge, put the blender on "smooth" and that's about what you end up with in this novel. This is one impressive first novel, but author Russell has been around powerful movie studios (Paramount, Columbia, MGM/UA and Carolco Pictures) most of his professional career and is president of his own company, Site 85 Productions. And City of War has already been tagged to be made into a movie by Hollywood producers Mace Neufeld and Stephanie Austin, both of whom who have worked on such huge pictures as True Lies and Terminator 2, not to mention the movies based on Tom Clancy's Jack Ryan novels.
Rail Black is one heck of an enigma at the beginning of the story. But as the book progresses, you learn a bit of his history – rich beyond belief with exquisite taste with experience as a former Delta Force soldier and connections around the world who help him help people in trouble. Imagine Bruce Wayne without the cape and cowl and you get a bit more of the picture.
When a beautiful stranger sprints naked down an LA freeway out of the back of a van, Rail can't help but notice and become involved. The beautiful woman turns out to be Kim York, a museum magazine publisher with a dark past and a mystery that he just can't let go. Along the way, Mr. Black crosses paths with gang bangers, Mafiosos, World War II art history, and the U.S. military and gets quite a globe-trotting workout.
City of War opens fast and never lets up to the end, but I was happy to see that Russell is working on more Rail Black adventures to share with us. Not since I blew through Ludlum's work novel after novel and Tom Clancy's Jack Ryan series have I been this swept up in international intrigue. I'd also be curious to hear just how much money Mr. Black spends without blinking – I'm sure it's more fictional money than I will ever see in my lifetime that he spends to get to the bottom of things.
If you're looking for a great thriller, be sure to pick up Neil Russell's City of War and keep an ear to the ground for news of the movie that somehow I suspect I'll be standing in line for opening day. Great work for a first novel and I wait eagerly for the next!
–Fitz
p.s. Pick up City of War and other great books below from B&N!
Related articles by Zemanta