Hey there…
These days I'm always on the hunt for good urban fantasy. The gold standard for urban fantasy for me is The Dresden Files series by Jim Butcher. Magic and sarcasm make a heady mix for Harry Dresden, wizard-for-hire, and it's a tough combination to beat.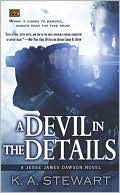 That doesn't stop me from looking however. And a few months ago I saw a review of K.A. Stewart's A Devil in the Details on the Fantasy Book Critic blog. I immediately ordered a copy and threw it into my "read when I get a chance" pile.
Thankfully I had a chance to read it a couple of weeks ago and it was both a quick read and a lot of fun. Jesse James Dawson has an interesting worldview and a unique set of skills that come in handy when you act as a proxy in a deal with a demon. Demons don't look too kindly on breaking contracts it seems and it tends to get messy. That's when Dawson's katana comes out to play…
Dawson is a member of a loose network of Champions around the globe focused on helping people get out of their contracts with demons. And he won't just take on anybody. If you've made a deal with a demon, you knew what you were doing even if you didn't think through all the consequences. You really have to have reformed in some serious ways if you expect Dawson to take your case. Yes, he gets paid well by the people he helps, but that's just so that his wife and daughter are taken care of in the event that he dies on the job. He knows eventually his luck will run out and his family must be safe and secure in his absence.
What is this job exactly? He intercedes on behalf of people who have sold their souls to a demon for something. It can be something as giving as asking for a cure for your dying child or as selfish as wanting a few more years in the limelight before you fade away for good. In this story, it's a famous old baseball pitcher who approaches Dawson to help him out. He wasn't getting any playing time as younger players were pitching better than he was and he wanted to go out on top… Well, he paid for the sudden turnaround with his soul. And now he wants out of the deal.
Once Dawson is involved, he discovers that other things are afoot and that some of his fellow Champions have gone missing. Is it all related? Can he keep his family safe and still fulfill his obligations to the pitcher? You'll have to read it and find out, but A Devil in the Details sets the groundwork for a great new realm in urban fantasy I look forward to exploring further.
Though this is the first book in a series and Stewart's debut, it really doesn't feel like one. Her writing style was fluid enough that Dawson's quests never felt forced or rushed. When a character was introduced, it was there for a reason and that reason was resolved by the end. And though all the loose ends were neatly tied up, this story left me wanting to know more about Dawson and his network of Champions in the next book.
Be sure to check out A Devil in the Details from K.A. Stewart at your favorite bookseller and check out her blog at Literary Intent.
This article first appeared at BlogCritics.org here.
–Fitz
p.s. Pick up the book from Barnes & Noble below: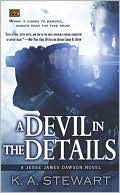 Related articles