Time for another giveaway from our friends at Harper Collins!
The Free Market Capitalist's Survival Guide: How To Invest and Thrive in an Era of Rampant Socialism by Jerry Bower offers some alternative advice on how to make the best of today's uncertain financial times. Though I don't agree that Obama and "the Left" are to blame for our financial woes, I suspect that there is some sound investing advice throughout the book if you look past the political rhetoric.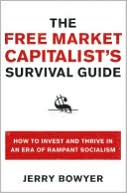 Unfortunately, because of my limited shipping budget, I can only offer this to United States residents… But all you have to do is leave a comment below and I'll contact the winner via e-mail on February 18, 2011.
Good luck!
Here are some details from the press release:
Bowyer's Rules for prospering in an anti-wealth environment include:

Leftism won't work: don't invest in it
Don't invest in specific industries that politicians are focused on
Invest in solutions to leftism
Invest in alternatives to the institutions destroyed by the left
When the government hates things that are big, be small
When the government trashes contracts, invest in people who don't need them
Find cities of refuge

Likened to Rich Dad, Poor Dad – but for political conservatives — The Free Market Capitalist's Survival Guide gives advice for anyone concerned about creating and preserving wealth in the most anti-wealth and anti-business period in America in over 30 years.

Jerry Bowyer is the founder of Bowyer Media which prodcues radio and television programs, and has been quoted by and/or written for The New York Times, Wall Street Journal, Newsweek, Washington Post and the International Herald Tribune. He has written columns for National Review Online, Human Events, Townhall.com, TechCentralStation, Townhall Magazine, and Forbes.com.
Related articles