Update: Congrats to Kathy B. – winner of the book. It went in the mail yesterday. Thanks to all who entered!
Time for another giveaway! This time from our friends at Harper Collins!
Surviving a Shark Attack (on Land): Overcoming Betrayal and Dealing with Revenge by Dr. Laura Schlessinger deals with how to deal with feelings of betrayal. We've all been betrayed at one time or another – by family, friends, work, or even by ourselves. It's a part of the human condition. But if you don't deal with it, it tends to fester like any deep wound, making things worse as it eats away at you.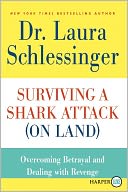 Unfortunately, because of my limited shipping budget, I can only offer this to United States residents… But all you have to do is leave a comment below and I'll contact the winner via e-mail on February 4, 2011.
Good luck!
Here are some details from the press release:
Born out of her own highly public encounter with betrayal and its emotional aftermath, Surviving a Shark Attack (on Land): Overcoming Betrayal and Dealing with Revenge from Harper is one of Dr. Laura Schlessinger's most personal books. As Dr. Laura's legion of fans know and appreciate, the radio host, nationally syndicated newspaper columnist, and perennial New York Times bestselling author never skirts controversy, and here she offers an incisive and unsurprisingly plain-speaking look at the hot-button topic of how to deal with the traitorous, backstabbing "sharks" we confront in our personal and professional lives.

"Every single human being on the face of the earth has been betrayed, backstabbing, undermined, screwed over, or had their reputation attacked at least once in their lives," Dr. Laura writes. "It's a horrible experience, leaving you stunned, scared, sad, and very, very angry." When subject to a stealth land shark attack, the first reaction is shock and disbelief. When attempts to shut down the betrayal fail, the typical next response is to strike back. Often, that action only makes things worse. So, what is the source of betrayal and how do you survive it? How do you keep other peoples destructiveness from destroying you?

Drawing on her personal experiences, as well as those of myriad listeners and readers, Dr. Laura examines the nature of betrayal, and the healthy and unhealthy ways to deal with it…
Related articles