On behalf of Tor Books, I have a copy of Serpent Moon by C.T. Adams & Cathy Clamp to send to one lucky winner!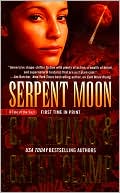 Unfortunately, because of my limited shipping budget, I can only offer this to United States residents… But all you have to do is leave a comment below and I'll contact the winner via e-mail on October 7, 2010.
Good luck!
From the press release:
Even though she's one of them, Holly Sanchez has a complicated relationship with the shapeshifting Sazi. Recently, it's gotten even more complicated: a vicious band of Sazi attacked her, intending to kill her. Miraculously, Holly survived – and has become one of the rare Sazi healers.

Eric Thompson is an incredibly powerful Sazi wolf. His howl can ruin electronics and bring aircraft tumbling from the sky. Too dangerous even for the knife-edge Sazi community, Eric has lived a life of isolation and distrust. But when someone starts killing shape-shifters, Eric knows he must do everything in his power to defend his people.

In Serpent Moon, Holly and Eric team up to track down a killer – even though Holly's not convinced that saving the Sazi is something she should be doing. Then she's offered a chance to have her old life back and faces an excruciating choice – a life with Eric, as a Sazi, or life as a "normal" human being?

C.T. Adams and Cathy Clamp have been teaming up for over ten years, giving readers USA Today bestselling tales of daring shifters, evil vampires, and ruthless men and women willing to fight for their lives and the lives of those they love. Serpent Moon, the final book in Adams and Clamps' Tales of the Sazi, is one of their best books and definitely not to be missed!
Related articles by Zemanta