Hi all…
Human Target is coming back for a second season on November 17th, which has given me some time to appreciate what came before.
Image via Wikipedia
When Human Target debuted on Fox in January 2010, I was hooked from the beginning. Loosely based on the DC Comics title of the same name, the TV series follows the adventures of Christopher Chance (Mark Valley, Fringe), Winston (Chi McBride, Boston Public, I, Robot), and freelancer Guerrero [Jackie Earle Haley, Watchmen, Nightmare on Elm Street (2010)] as they struggle against the odds to help people find and eliminate the threats trying to end their lives.
The combination of humor, action, and a complex backstory that was revealed bit by bit throughout the season made it an easy choice for watching week to week. But there were two things that really sold the series for me beyond the content… the opening titles and the music.
The opening titles used a combination of water colors and a James Bond-movie type sequence flowing characters and background together that provided a fluid representation of all the major elements of the show. All the characters, the main backdrop of San Francisco, and the hazardous nature of the work the trio does together were presented in an artful way I'd not seen done on television before.
And then there's Bear McCreary's score for the series. The opening titles had me from the first few notes – as soon as the flutes pipe the main theme, the orchestra fills in behind, and the horns take over, I was sold. As the season continued episode to episode, I felt like McCreary's music gave this television show the feel of a movie each week – truly capturing the pulse of the action on screen. Somehow McCreary manages to combine some of the flair of Danny Elfman's soundtracks for Tim Burton movies with the power over the orchestra I feel in each John Williams soundtrack.
McCreary's music for Human Target is being released in a couple of ways. You can get a limited edition 3-CD set from La-La Land Records or a 2-CD digital distribution from WaterTower Music (on iTunes). I was fortunate enough to listen to the digital release and was blown away. While watching the series on television (or the recent release of the series on DVD & Blu-ray), I would get caught up in the action on screen and only faintly aware of the music in the background. So listening to the music without the episodes in which they appear gave me a whole new appreciation for these compositions.
Tracks go from less than a minute to more than ten and cover more than two and a half hours of music from throughout the first season. Styles vary from quick, dark, and percussive to moody and romantic to light and almost circus-like. According to a recent article in Variety, each episode featured as much as 30 minutes of music played by an average of 60 musicians – making it the "largest group of musicians to play on a live-action TV series in years". The season finale "Christopher Chance" alone featured an amazing 94 musicians.
And the quality of McCreary's work has not gone unnoticed – he earned his first Emmy Award nomination for "Outstanding Original Main Title Theme Music" for Human Target.
Whether you are a fan of the show, of Bear McCreary, or simply want to hear some amazing music, I can highly recommend picking up the Human Target soundtrack from WaterTower Music (digital release on iTunes) or La-La Land Records (3-CD deluxe version).
While researching this article, I did some reading on Bear McCreary's Battlestar Blog and was disappointed to find out that he won't be doing the soundtrack for season 2 of Human Target. He was not asked to return to the series, since it's now under new creative leadership (see this post). Somehow I doubt the music will be as good for the second season. But obviously I wish all the best to McCreary for whatever projects are lucky enough to have him on board.
For more information about Bear and his music, I highly recommend reading his blog and check out his website at BearMcCreary.com.
This article first appeared at BlogCritics.org here.
–Fitz
p.s. Pick up Human Target merchandise at Barnes & Noble below!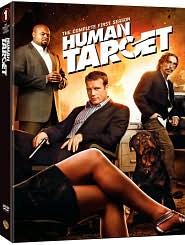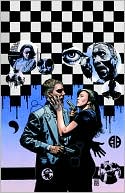 Related articles